Poems

Close Your Eyes


Close your eyes, and see me now.
Relax, be still and feel me near.
But a breath away, I am.


My father's child, my mother's love forever.
Embrace, embrace - don't let go of one another. Within your hearts, I have my life.


You saw seven candles, heard birthday's song.
Rode the river past my milestones.
And held my children in your arms.


My parents' hopes and dreams and wishes sweet. We never know how long lives embrace.
Forgive me. I took brave steps another way.


The gifts we shared were precious, rare.
Love's lessons we learned in joy and tears.
But hope and love outlasted time.


Love circling, you held me, my hand.
I heard your words, but love spoke loudest.
In sweet peace, I closed my eyes - and see you now.


Soft tears. Good-byes. And questions why?
You gave me being and loved me strong.
I made you a father and a mother lifelong.


Speak of me aloud.
Monkeys, choo-choos and wagon rides.
The hugs, the giggles, the smiles, the wiggles.


And listen quiet for my whisper.
Strength and fight. And heart of courage.
Laughter. Joy. And life itself.


Close your eyes, and see me now.
Relax, be still and feel me near.
But a breath away, I am.


-Julia Ann Easley, for Ella
Written May 29, 2007
Read by Julia Ann at Ella's Memorial Service
May 31, 2007



Back to top



To Ella


Little Ella, little Angel,
With eyes so blue
and smile so bright
I pray for you
with all my might


I'd rather it me, than you little one
to endure such ill
I hope upon all our tears
That you will see many happy years


May God guide your surgeon's hand
and return you to us safe again
to build with me a castle of sand


We love you, Ella


-Pat Williams
February 17, 2007



Back to top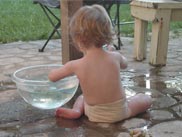 We Cry ... I Smile


Dearest Ella. Sweet child. The result of a wondrous and stong love.


We cry. We weep...


...for the days we will miss with you.
...for the little adventures we should have taken.
...for the discoveries we could have made together.
...for the laughter, the stories, the promise.


We cry. We weep...


...for what were your accomplishments to be, and the kisses we will never get.
...for the aching in your parentsí hearts,
and the longing of their arms to hold you again,
healthy, strong, well.


But Ahhhhh, Ella, I smile


... I smile at the thought of your beautiful sweet laughter. At the joy of seeing you as you were. Happy to sit and play with water. At how you smiled and even chuckled to see photos of my children,
even as you yourself were feeling low. I smile at the pleasure you gave to those who loved you with all their being,
even if only for a short while.


Reluctantly, Ella, and oh-so-unwillingly, we let you go. Your memory with us forever.


We will meet again. We will have that chance...


Fly with love, dear sweet fairy-child.


- Laura Ghiron



Back to top



Alone


I am the hot sun reflecting on a sparkling lake
I am a light bulb in a lone child's mind
I am close, yet so far away
I am the song you're sung to sleep with
I am the child of your dreams and worst nightmares
I am the black cat that loves to play
I am the loneliness of an only child
I am a rainbow, yet I am the moon
I am the money that will come soon
I am the teddy bear you hug so close
I am the traveler, yet I try not to boast
I am the cousin that I loved so dear
I wish
I wish that you were still here
I wish
I wish that you were still near
I hope
I hope you will come back somehow
Goodbye
Goodbye
Goodbye, just for now

- Tanika McKinley (Ella's Cousin)

Back to top
Writings
To All Those Who Pass This Way Today
To all those who pass this way today, let it be known that our dear Ella – daughter, granddaughter, niece, cousin, friend, music lover, bacon authority, vernal pool expert, and little mommy to Gigi and Gossie – is, and forever will be, so loved by all.
We reach out to her, to her parents, Tom and Shannon, on this beautiful spring day, the kind that holds the promise of a walk to the park, of a romp with Jolie and Pierre, just an otherwise ordinary spring day, full of discoveries and havoc yet to be made.
To all those who pass this way today, let it be known that Ella is an enchanting child with dimples that protect a sweet smile and a silly, infectious laugh, who is blessed with strawberry locks and sparkling eyes that often turn playfully mischievous with one swift sideways glance.
We gather here today to be with Ella, to be with her loving parents, who are amazingly strong, amazingly resilient caregivers on this painful, poignant, passionate journey as it draws to an end.
To all those who pass this way today, let it be known that Ella, despite her illness that deprived her of years, but not of the joy of living, patiently, and not so patiently, endured months of treatment that could not conquer her cancer but failed to defeat or even diminish her courage or her character.
On this beautiful spring day, when Ella should be out pushing a series of naked dolls all named Gigi around in their little stroller, she is comforted by the companionship of her best Gossie goose and all the love in the world.
To all those who pass this way today, we ask you to remember the strength of a little girl, the love of her parents, of all the little things that made Ella the special child that she will always be.
- Pam Slater
May 2007
Back to top
Album Insert
Lyndhurst Rd.

by the Holliston Stops
(CD art & dedication for Ella)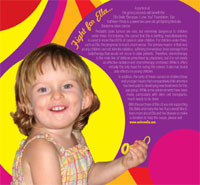 (click to view) 2-page Acrobat pdf
This album insert is from the CD: Lyndhurst Rd. by the Holliston Stops, a band who has had their lives touched by the unexpected losses of both Ella and another girl named Ruby. The band started a fund in Ella's name to support pediatric cancer research.


Back to top